Professor Jonathan Rose is being honored at the Willard H. Pedrick Society Dinner this coming Tuesday evening, after 44 years at the College of Law.  Professor Rose is an expert in medieval and early modern English Legal History, and focuses much of his current research on the history of the legal profession and the operation of the medieval legal system.
In celebration of Professor Rose's career and his passion for legal history, today we are highlighting three new books in the Law Library's English Legal History collection:
His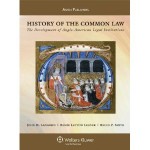 tory of the Common Law: The Development of Anglo-American Legal Institutions
Law Reserve K588 .L36 2009
History of the Common Law "explores the historical origins of the main legal institutions that came to characterize the Anglo-American legal tradition, and to distinguish it from European legal systems."  The book's two main focuses are the origins and development of the jury system and the division of law and equity, but it also addresses the development of the legal profession and the evolution of legal education.  Over 250 illustrations grace the pages of this text, culled from historical paintings, illuminated manuscripts, and paintings.
A Lancast
rian Mirror for Princes: The Yale Law School New Statutes of England
Law English Legal History KD130 1327 .M3 2011
A Lancastrian Mirror for Princes is a monographic study of a 15-century English manuscript titled the New Statutes of England, housed at the Yale Law School Library.  The study's author, Rosemarie McGerr, is the Remak Professor of Comparative Literature and Director of the Medieval Studies Institute at Indiana University Bloomington.   McGerr examines the legal, religious, and literary discourses related to the manuscript in this new book, and argues that the manuscript was a both a legal reference work and a book of instruction on kingship.
Law an
d Private Life in the Middle Ages: Proceedings of the Sixth Carlsberg Academy Conference on Medieval Legal History 2009
Law English Legal History KJ135 .L3 2009
Law and Private Life in the Middle Ages is collection of the proceedings of the Sixth Academy Conference on Medieval Legal History, which took place in Copenhagen in 2009.  The text presents information on how the law influenced everyday life in the Middle Ages, and addresses such topics as domestic violence and inheritance.